International Day of Persons with disabilities (World Disabled Day) Celebrations-December 3rd 2017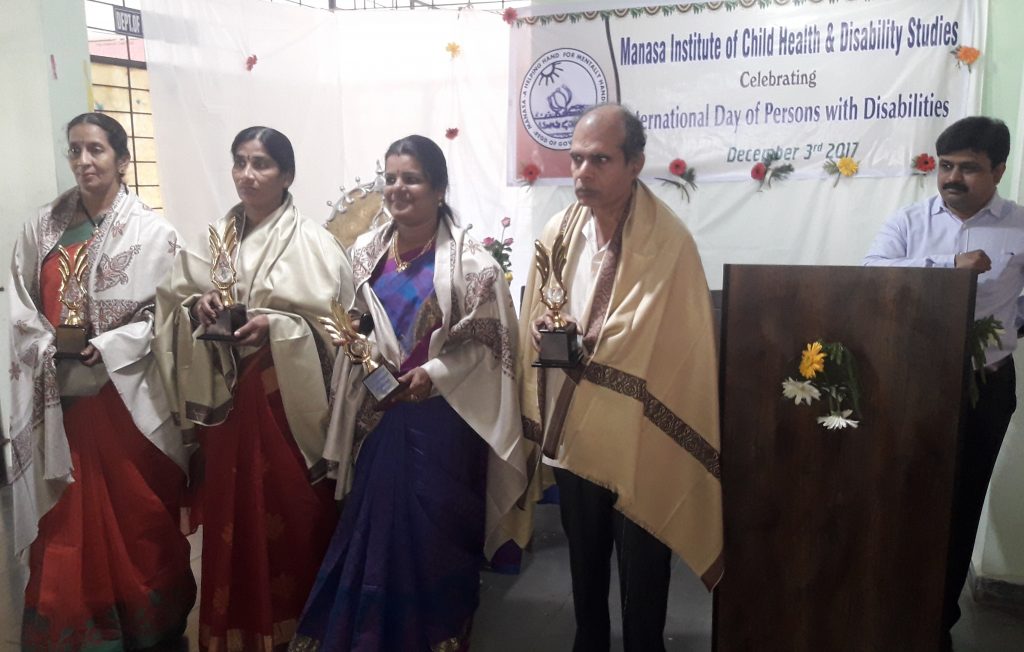 Date: 03 December, 2017
Venue: Manasa Special School, KothapetNagole Road,
Besides TSCPDCL Office, Mohan Nagar, Kothapet, Hyderabad
10.30 a.m

Welcome Address

Smt. P.V. Lakshmi,

President – Manasa

Inviting Guests on to the Dias

The  Director

Manasa Institute Of Child Health & Disability Studies, Hyderabad

10.35 a.m.

Invocation song & Lighting the Lamp

Teachers of special children-

Ms.Laxmi, Ms.Kameshwari&Ms.Rajyalaxmi

10.40 a.m.

Dance& Songs

Special Child –Baby Ananya& Others

11.30 a.m.

Speech by the Guest of Honour

Prof. Mrunalini,

Director – Institute of Advance Studies in Education, Osmania Univeristy

12.00 p.m.

Felicitations for senior employees of Manasa

1. Ms. L. Laxmi, Teacher- Special Education

2. Ms. P. P. V. Ratnajanali ,           "

3. P. PattabhiRamaiah, Clerk cum Typist

4. G. Yadamma, Ayah

12.10 p.m.

Thanks to the Guests and Invitees

Vocational Trainee- Mr.J. V. Sreeharsha

12.20 p.m.

Vote of Thanks

Smt. P. Sarvalaxmi

Secretary, Manasa Institute
According to a latest report by World Health Organisation, about one billion people  that means 15% of the world's population lives with some form of disability, of whom 2-4% experience significant difficulties in functioning. Persons with disabilities, on average as a group, are more likely to experience adverse socioeconomic outcomes than persons without disabilities, such as less education, poorer health outcomes, lower levels of employment, and higher poverty rates. Economic, legislative, physical, and social contexts may create or maintain barriers to the participation of people with disabilities in economic, civic, and community life. Barriers include inaccessible buildings, lack of accessible transport, lower access to information and communication technology (ICT), inadequate standards, lower level of services and funding for those services, as well as too little data and analysis for evidence-based, efficient, and effective policies.
Poverty increases the risk of disability through malnutrition, inadequate access to education and health care, unsafe working conditions, a polluted environment, and lack of access to safe water and sanitation and the disability increases the risk of poverty, through lack of employment and education opportunities, lower wages, and increased cost of living with a disability.
The Manasa's inception as an organisation rooted in pious intension and pure commitment of women academicians retired from Raja BahadurVenkata Rama Reddy Women's Collegeto help such special children, whose parents cannot afford the necessary health and rehabilitation services.  In the 25 years of service the Manasa has gained so many experiences and great lessons; out of which an enthusiasm has taken birth to address the serious deficit of health and rehabilitation professionals in our society. There is also a need for through relevant research. Another need, we realised is to reach out to slums, rural and tribal areas, where there is no awareness and nor basic facilities. On this auspicious occasion Manasa announces its new plans and shares experiences with the stakeholders and seeks out inspiration out of kind messages of dignitaries.